Tora! Tora! Bora!
---
[ Plot | Features | Requirements | Platforms | Screen Shots | Download ]
---
Plot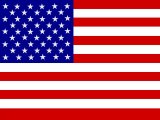 Intelligence gathered by members of the United States coalition against terrorism has identified a cave in which mastermind Osama Bin Laden may be hiding. Given your proven track record as one of the best fighter pilots in the world, United States Secretary of Defense Donald Rumsfeld assigns you to this dangerous mission. Do you choose to accept?
Features
Patriotic music
"Awesome" visual effects - falling dirt
System Requirements
Pentium 800 MHz
32 Mb RAM
6 Mb hard drive
Supported Platforms
---
Screen Shots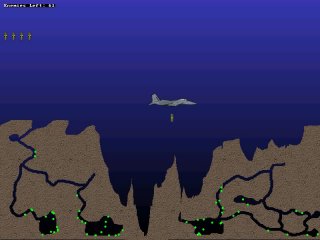 Cave network and enemy units below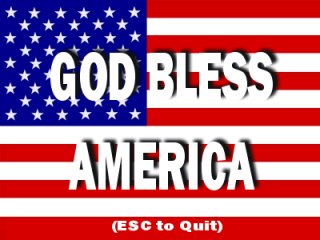 Patriotic final screen


---
Download Free Copy

Tora! Tora! Bora! - a04 (4.1Mb)
Download a free version of Tora! Tora! Bora!
Arrow keys control the movement of the fighter jet
Space bar drops bombs
ESC aborts mission

Alleg40.dll (0.2Mb)
This file is also required, and must be placed in the same directory as the above unzipped files.
Questions? Comments? Share your thoughts on the Discussion Forums...
if ($google) { echo $googlerectangle; } else { echo $yahoorectangle; } ?>