Humorous Cross Country Running Game
---
[ Plot | Features | Requirements | Platforms | Screen Shots | Beta Test | Download ]
---
Plot
It's time to run a cross-country meet! However, you haven't eaten breakfast, so you are extremely tired and queasy. You are having problems walking, let along running (5000 meters). You devise an ingenious plan to "quench your thirst" for energy. You and your teammates strategically place one-hundred-forty-four 12oz cans of soda along the course. Your plan is to drink as much soda as possible while running to power you, while avoiding Mr. S. and Mr. T who are in the bushes, yelling at you to "go faster" and "pity da foo." If you are seen drinking soda, you must remember to "pour on the coal" and finish the race as soon as possible-late entries in the race want to "beat" you, costing you ego and score.
In addition to soda, other items may help you along the course. Souvenir flags used to "remember the meet" will add to your ego, if you don't get caught. Go around the course and gather as many flags as possible, without letting Mrs. S. see you. According to legend, it's "just not right" to "borrow souvenirs" from a cross-country meet. Some people get "nee-nee-nee" over such things-go figure. None the less, flags are worth 40 points. Your only other strategies for winning are "strategically aimed spitting," the unintentional "elbow-jab-in-da-stomach" trick, and the favorite "plastic-pole-in-da-face" method. Guest appearances by Gary Denor and others!
This game is currently in the early stages of development, but a beta release is expected to be released in the next few weeks.
Features
Uses Allegro, a cross-platform development library for Windows, Linux, UNIX, and BeOS
Multiplayer competition
Intelligent AI
Original sound effects
Course editor included
The only Cross-country running game on the market!
System Requirements
Pentium 450 mhz
32 Mb RAM
CD-ROM drive
30Mb hard disk space
Supported Platforms
Windows 95/98/Me/2000
Linux
DOS
BeOS
---
Screen Shots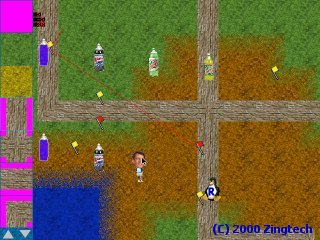 Demonstrates the three-layer tile engine and tile editor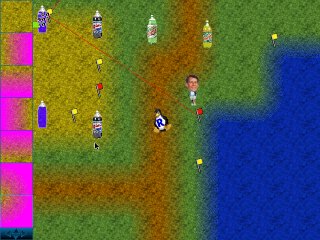 Shows the smoother tiling techniques implemented.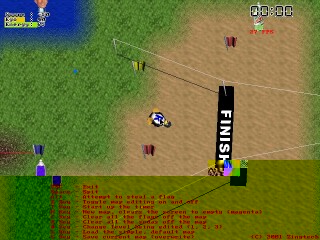 Reveals the new start/finish graphics and flags.
Additional screen shots will become available as development progresses.


---
Apply to Beta Test

Apply to Beta Test "Cross Country Running Game"
---
Download Alpha Version

Cross Country Running - a04 (879kb)
Download the alpha, prerelease version of Cross Country Running
Questions? Comments? Share your thoughts on the Discussion Forums...
if ($google) { echo $googlerectangle; } else { echo $yahoorectangle; } ?>