FloppyArchive
---
[ Purpose | Features | Requirements | Platforms | Screen Shots | Beta Test]
---
Purpose
FloppyArchive is a simple, user friendly utility that allows users to quickly and easily view floppy disk and CD contents. This utility will help alleviate the problem of users having many floppy disks and CD-RWs, but not knowing what is on them. This utility will create a hardcopy printout of disk contents, which allows for the easy location and retrieval of files.
Features
Allows the contents of any directory to be printed on a hardcopy
Supports local or network printers, color or black and white
Display Icons (Graphical)
Shows icons for different file extension, otherwise output will be entirely text based
Outputs the userís comment about a particular disk / CD
Date the archive listing was created
Number / Size of Files
File Listing
Select the way the directory listing will be printed. Various templates are available that are suited for popular brands of labels and perforated papers. Otherwise, the paper size is selected.
System Requirements
486 DX2 50mhz
4 Mb RAM
1.44 Mb Floppy disk drive
CD-ROM drive
500k hard disk space
Supported Platforms
Windows 95/98
Windows NT/2000
Linux (version 2)
DOS (version 2)
---
Screen Shots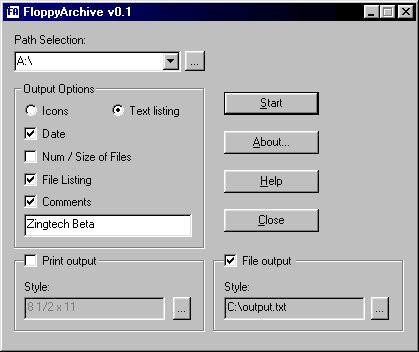 Main program window.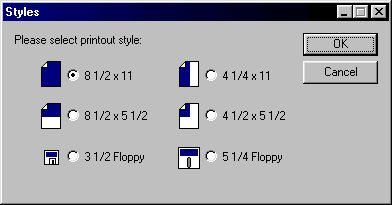 Different styles available for printout.
---
Apply to Beta Test

Apply to Beta Test FloppyArchive
Questions? Comments? Share your thoughts on the Discussion Forums...
if ($google) { echo $googlerectangle; } else { echo $yahoorectangle; } ?>