Custom-Built Desktop
---
---
The Machine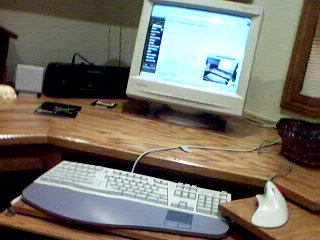 Enlight 7 BAY WHITE ATX MID TOWER W/250W +FLOPPY
Asus: A7V 5PCI
AMD: DURON 800mhz cpu & heatsink
PC-133 CAS 2 16X64, 384Mb, 133Mhz, 168 Pin
Maxtor: 30.4GB ULTRA ATA/DMA
Teac: 1.44MB 3.5" INT. FLOPPY DRIVE (CREAM)
HP 2/4/24X INT EIDE CD-WRITER PLUS 8100I-PC
Creative: SOUND BLASTER LIVE! VALUE
Actiontec: CALLWAITING PCI VOICE MODEM
NetGear: FA310TX PCI 10/100 ETHERNET ADAPTER
ATI: XPERT@PLAY 98 3D 8MB AGP
ViewSonic: PS790 19"(18.0) .25MM 1600X1280
Logitech CORDLESS DESKTOP PRO KEYBOARD
Logitech CORDLESS MOUSEMAN WHEEL
ALTEC LANSING ACS45.1 POWERCUBE PLUS 3PCS SPEAKERS W/SUBWOOFER
HP: DESKJET 932C 9PPM
Microsoft: WINDOWS 98 SE AND REDHAT LINUX 7.0 W/ KDE
Why Build a Computer?

I decided to build a computer from parts rather than buying one because I knew I would learn a lot. By assembling a computer from the ground up, I have learned how all the components in the computer work together. I also learned how to troubleshoot computer related problems when something in the computer wasn't working. I also learned how to find good deals online, and search around for the parts I wanted. Last but not least, building a computer is fun!
On-line Retailers
NECX

http://www.necx.com/
I highly recommend this online retailer. NECX has very fast delivery and very low prices and many different items. I received my packages within 4 days of my order from them. They had a large selection of products and good reviews about all of them. I ordered all of my computer parts except the RAM and monitor from NECX.

MemoryMan

http://www.memory-man.com/
I moderately recommend MemoryMan. Their prices are a little high, but the memory they sell is top-of-the-line quality. I guess you get what you pay for. Shipping took 1 week from when I placed my order. If you plan to overclock your CPU or bus speed, you need high quality RAM, which is what the Memory Man provides.

Multi-Wave Direct

http://www.mwave.com/
I moderately recommend Multi-Wave. Their prices are rock-bottom low, but their service and shipping are not top notch. It took 1 week to get the monitor I got from here. I chose to get my monitor here because it was $30 cheaper than at NECX and it was in-stock at the time.
Computer Hardware Links
AnandTech

Tom's Hardware Guide

PC World
Questions? Comments? Share your thoughts on the Discussion Forums...
if ($google) { echo $googlerectangle; } else { echo $yahoorectangle; } ?>

if ($google) { echo $googleskyscraper; } else { echo $yahooskyscraper; } ?>